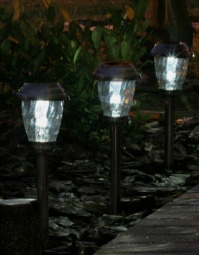 How Solar Powered Lights Compare To Traditional Landscape Lights...



Solar powered products are becoming more and more popular due to the promise of simplicity and energy savings. The idea is very enticing, but the results are usually way below expectations. Solar powered path lights often look like an airport runway instead of lighting the path itself. Solar powered accent lights simply do not have enough output to properly light a tree or wash an architectural feature. We have access to thousands of products but we have not found any solar products that are on par with our conventional low voltage professional products. Here are some of the advantages and disadvantages to most current solar lighting products…


Advantages:
+ Easy to install – literally just stick it in the ground, no wiring needed
+ Uses no electricity
+ Inexpensive
Disadvantages:
- Very little light output
- Fixture often becomes the focal point instead of lighting a path or specimen
- Lack of lighting flexibility – can't change bulb brightness or spread pattern
- Blue or green tint lighting, not warm hue like conventional lighting
- Inferior build quality to keep price low
If you were interested in solar lighting because you wanted to save energy, we have another option...
[ Click Here to Learn About Our LED Products ]
Although conventional landscape lighting systems actually use much less energy than most assume, LED systems use much less. Landscape lighting systems use a transformer that reduces 120v down to 12v to power the fixtures. Halogen landscape lighting fixtures use much less power than regular lights inside your home. LED landscape lighting fixtures use 50-80% less than normal halogen ones. You can also mix and match depending on fixture costs and application. Imagine creating a beautiful outdoor lighting atmosphere every night for as little as $10 per month in energy costs.
If you were interested in solar lighting because you wanted to install it yourself, we have another option for you...
[ Click Here to Learn About Our DIY and Retail Sales Options ]
We respect the DIY homeowner and offer most of our products to retail customers without installation. Installing the entire system yourself could save you 50% off of our standard installed pricing. We will work with you as much as you need to help you design and/or install your new system. For a few hundred dollars, we will even come to your residence, walk the property, and create a lighting installation plan specifying every detail with your input. We can even install everything and leave burying the wire to you to save you 10-30% of our normal installation prices.
Below is a comparison of a typical higher quality solar light versus one of our professional pathlights...
As you can see the solar light (left) illuminates as a marker whereas our pathlights (right) actually light an area below the top of the fixture. Our fixtures will illuminate a 10ft radius so you do not need near as many installed as you would need installing solar or Malibu style fixtures. We can also get custom lengths manufactured for steps, flower beds, address plaques, or in this case: an alarm company sign and a pathway.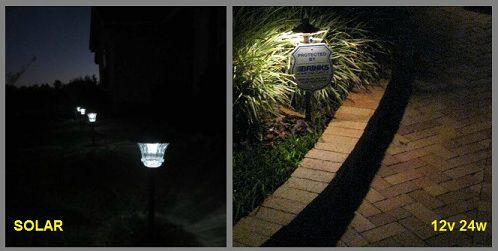 The idea behind professional landscape lighting is simple –
the focus should be on an area or specimen not the fixture itself.
Moonlight Landscape Lighting, Inc. services Windermere, Orlando, Winter Park and the Central Florida Area:

Orlando, Windermere, Bay Hill, Dr. Phillips, Winter Garden, Ocoee, Gotha, Clermont, Oakland, Eastwood, Bithlo, Longwood, Oviedo, Casselberry, Lake Mary, Heathrow, Sanford, Conway, Belle Isle, Maitland, Winter Park, Baldwin Park, Altamonte Springs, Apopka, College Park, Hunter's Creek, Edgewood, Kissimmee, St. Cloud, Winter Springs, Deltona, Colonialtown, Delaney Park, Lake Nona, Metro West, Isleworth, Lake Butler Sound, Keene's Pointe, Cypress Point, Phillips Landing, Heathrow Woods, Lake Nona, Bella Collina, Golden Oak and more.
[ Click Here to Contact Us ]



Moonlight is a full service landscape lighting company offering:

Design and Installation [ NEW INSTALLATIONS ]
System Additions [ SYSTEM ADDITIONS ]
Repairs and Service Calls [ REPAIRS AND SERVICE ]
Retail Product Sales [ RETAIL DIY SALES ]
Our goal is to exceed our clients' expectations by providing the best quality products, workmanship, and customer service available in Orlando and Central Florida.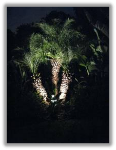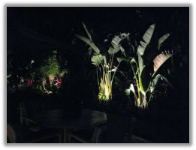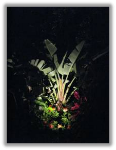 Moonlight Landscape Lighting, Inc.
1331 Green Forest Court – Suite 6
Winter Garden, FL 34787
407.654.3133
FL Electrical License # ET-0000288






( site under construction - last updated 06/29/20 - end of page )